THE BIKEATHON WILL RETURN
SAVE THE DATE – 21ST JUNE 2020
Next year we plan to do the Aviemore circuit with all the usual family fun and entertainment along the way. Entry fees will again support the Kingussie High School parent council charity and we encourage participants to raise sponsorship for a cause or club of their choice.
The below information relates to the 2019 event, sign up details will be posted here when we have them. If you want to be kept up to date head to facebook event HERE and click interested.
ONLINE ENTRY NOW CLOSED
CASH REGISTRATION AVAILABLE ON THE DAY
£15 Adults – £5 Children
Registration 9.30 – Event Start 10.30
IMPORTANT EVENT INFORMATION
BRING YOUR OWN WATER BOTTLE – WEAR A HELMET
WELCOME
Thank you for signing up for THE BIKEATHON. On behalf of Kingussie High School Parent Council, we are delighted to welcome you to the 2019 'Bikeathon'. The team at Cycle Friendly Kingussie (CFK) are honoured to be working with the school to put on this event.
By taking part in this fun, friendly cycling event you are directly helping to support local young people. All proceeds from Bikeathon registrations go to support the work of Kingussie High School (KHS) parent council, supporting the school to maximise opportunities for local young people. We are encouraging participants to use the event to raise additional sponsorship for a cause important to them.
You are also promoting the health benefits and enjoyment that simple cycling in a stunning landscape brings. CFK and KHS are very grateful to the many organisations, agencies, businesses, individuals and especially our local community who have all been extremely supportive and helpful in making the 2019 event happen. Please read this event information carefully.
WATER BOTTLES & HELMETS
Our water stations will have provision for you to refill your water bottle. As part of our drive to make this the most environmentally friendly bikeathon ever and eliminate any single-use plastic from the event, please bring your own water bottle.
All riders must wear a helmet.
TRAVEL AND PARKING AT THE EVENT:
Event 'Registration' and the 'Start' are located at Kingussie High School (postcode PH21 1ES) which is well-signposted from the village main street and will also be 'event signed' on the day. There will be no car parking at the school (to make room for our riders) or at the Duke of Gordon so please find suitable car parking places within the village, there are a number of car parks a short distance from the start and finish; please park sensibly and safely with respect for local residents. We are making this Bikeathon the most environmentally friendly possible so please try and car-share wherever possible or even cycle to the event!
REGISTRATION AND ENTRY ON THE DAY:
All Bikeathon cyclists (whether pre-entered or entering on the day) are required to attend 'Event Registration' located in the High School hall.
Registration will be open from 0930 until 1030 and all cyclists will be allocated and given their individual event number to attach to their bike. For event safety purposes it is really important that the organisers have accurate and up to date contact and health information for everyone taking part in the event, so this will be quickly checked at Registration.
If you have friends wishing to enter the Bikeathon on event day, there will be a signed area for them to do this and pay the entry fee (£15 Adults and £5 Juniors) in cash.
Every participant must register in person on event day and must not register or take part under another person's details. Any medical condition that the organisers should be aware of must be noted on the back of your event number. Important: if you have been ill or feel unwell you must not take part– it's just not worth it! Event numbers should be attached to your bike and be visible and should not be altered or defaced. Valuable items should not be brought to the event and participants are responsible for their own possessions at all times.
EVENT START
The Event Start will commence at 1030 with the start line located by Kingussie High School entrance. Cyclists will be asked to line up at the start area and will then be set off in staggered interval groups in succession to avoid crowding and bunching at the start. Please follow the start area marshals instructions to ensure that we get everyone set off safely – the Bikeathon is not a race – the aim is to enjoy the route, the entertainment along the way, and finish comfortably.
EVENT ROUTE:
General: The clockwise circular event route is approximately 23 miles long and follows good surface roads and cycleways throughout – suitable for any type of cycle. There will be plenty of event signage along the whole route including direction arrows, caution and warning signs, refreshment stops and distance signs at the 5, 10, 15 and 20-mile points. There will be three refreshment stations on the route at approx 6.5 miles, 11.5 miles and 19 miles. Being located in the Cairngorm National Park the route is not entirely flat! There are a few short sections of uphill gradients including one from the 6.5-mile refreshment point up to the centre of Scotland, where Kingussie High School pipers will welcome you, well worth it for the downhill that follows! There are loos at Kingussie, Newtonmore, Ralia and Invernahavon. This is a special place, please leave no trace.
The Route : From the High School Start the route turns right – across the railway level crossing – up to the High Street – turns left – along A86 to join the NCN cycleway heading to Newtonmore – through the village (3 miles) – then keeping left along the B9150 and heading to Ralia Services (5 miles) – along NCN cycleway then turning right at junction for Glentruim – on to Invernahavon Caravan Site (Refreshment Station 6.5 miles) – along Glentruim to Catlodge junction (10 miles) – turning right along A889 to the Monarch Half Way Stop and Refreshments (11.5 miles) – then turning right at the A86 junction to Laggan Village – continue along A86 heading to Newtonmore – Banchor Mains Refreshment Station (19 miles) – continue along A86 through Newtonmore – rejoin NCN cycleway (21 miles) heading to Kingussie – back on A86 and into Kingussie Village – turn left at Duke of Gordon Hotel and you will be directed to the Finish Line and a huge welcome back (23miles).
EVENT FINISH
The Bikeathon Finish will be located at the Duke of Gordon Hotel where all cyclists will be warmly welcomed by Speysound Radio, thanked and presented with their well-earned and very special event medal. Refreshments and entertainment will be available at the finish and we encourage participants to hang around to welcome other riders in.
EVENT SAFETY
All participants MUST wear an approved cycle helmet during the event
All participants under 14 years MUST be accompanied/supervised by an appropriate responsible adult during the cycle ride. Participants under 16 years MUST have signed Parental/Guardian consent to take part
All participants MUST obey the Road Traffic Act and Highway Code and follow the instructions of all normal road signs, event signs and event marshals and officials. There are no road closures for the event so please be aware of other road users at all times and keep well to the left-hand side of the road and stay alert.
Please ensure your bike is checked over/maintained and fit for the cycle ride and ensure you bring along adequate bike tools and spares for any problems that arise.
Please ensure you wear or carry adequate clothing and bring along additional clothes in case of changeable weather… and also for after the cycle ride to keep warm and dry (come prepared for all eventualities – sunglasses and woolly hats!)
Make sure you are well-hydrated before, during and after the cycle ride – bring and carry plenty of fluids and snacks (and also any medical items you might need)
There will be a number of clearly identifiable event marshals around the route and also an event sweep bike, and David from Bothy Bikes providing mechanical support, all of whom have key contact details.
There will be qualified medical cover at the event and a dedicated communication plan as part of the event safety plan. If you come across an incident please help and if needed your first point of call should be 999 then contact event organisers.
If you are ill or feeling unwell you must not take part.
Any cyclist withdrawing or retiring after the event has started for any reason should inform the nearest event marshal or the finish line team as soon as possible so we know you are safe. If you are injured, become unwell or need help or assistance in any way you MUST inform the nearest marshal as soon as possible who will arrange appropriate help. In the event of an emergency call 999 first to get help and then inform event officials
If you need any more information email us on info@cyclefriendlykingussie.org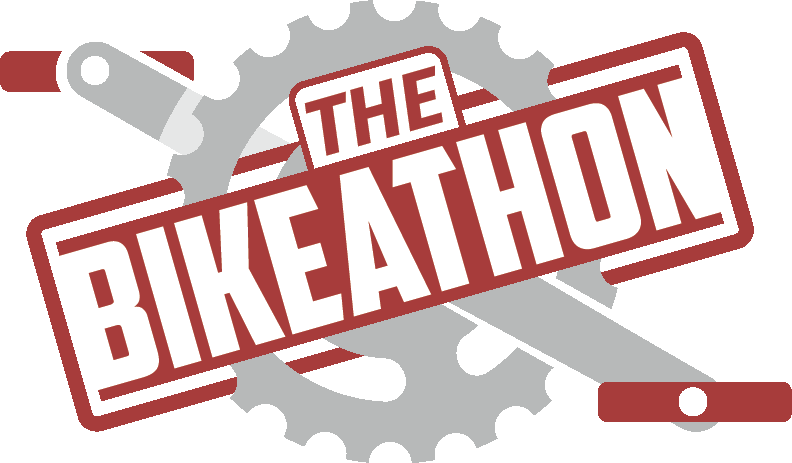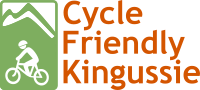 The team at Cycle Friendly Kingussie and Kingussie High School look forward to welcoming you on Sunday.
The Kingussie Bikeathon is back for 2019 and better than ever….
Our Community family-friendly event will take you on a marked and marshalled road route through some spectacular scenery in the Cairngorms National Park.
This community event is organised by Cycle Friendly Kingussie along with Kingussie High School and Wilderness Scotland and is open to all.
Entry fees have been held at last years level of £15 for adults and £5 for children. Funds raised from the fees will go to support our local children at Kingussie High School.
We are encouraging all local groups and charities to get involved, enter teams and use the event to raise funds for your own cause through sponsorship. If you are part of a local group and want to know more email us at info@cyclefriendlykingussie.org.
After the 'Grand Depart' led by special guest Cameron McNeish from Kingussie High School at 10.30, we will follow the picturesque route through Newtonmore, along National Cycle Route 7, past Ralia Cafe and up past Glentrium to the spectacular viewpoint at the Centre of Scotland before descending to Laggan and back under the shadow of Craig Dubh through Newtonmore to Kingussie. The finish will be at the Duke of Gordon Hotel where well-earned refreshment and entertainment will be waiting.Look out along the route for our refreshment stops and entertainment to keep you going.
As a thankyou for supporting the Bikeathon our friends at Landmark Forest Adventure Park are offering three free family tickets to be awarded as prizes on the day and a 20% discount for up to six people, for every Bikeathon participant, between 11th June and 7th July. We will email details of how to claim when you book.
At the finish, there will be refreshments, a burger marquee, and hotel drinks bar. The finish line will also have entertainment and the ever popular skills corner for kids.
See you on the 23rd of June!
Please click here to book your place.